Power Quality Examination for (250KW) PV Grid-tied Connected at Various Irradiance Levels
Abstract
Although using a PV grid-tide system has many advantages, connecting the PV to the grid creates a new challenge at the power quality level. The PV grid-tide plant (250 kW), implemented at the Iraqi ministry of electricity building, was taken as a case steady to examine the power quality issue at various irradiance levels. The plant was described in detail and built using MATLAB2018b/Simulink. The developed system was examined at various irradiance levels. The results showed that an increased irradiance level leads to an enhancement in the power quality. The total harmonic distortion (THD) decreases with the increase of irradiance. Such behavior has a good impact on the power quality, where the (THD) is considered a crucial parameter in the power quality issue and increased irradiance level, leading to increased injected power to the grid. Up to the date of writing this study, the power quality effect of the installed (250 kW) PV grid-tied system on Iraqi grid utility was not previously studied, whether for the studied system or another PV grid-tied system installed in Iraq.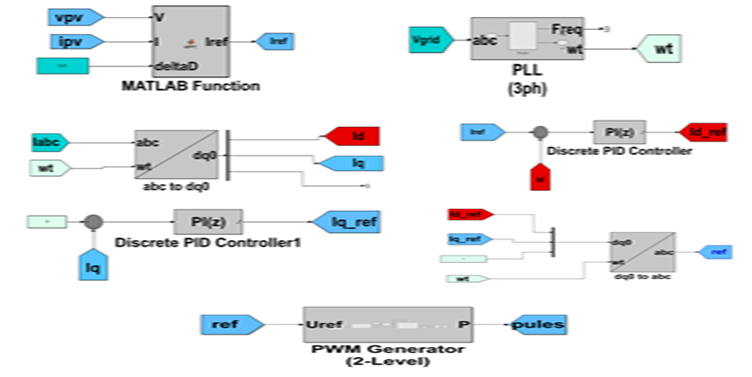 Main Subjects:
The Iraqi ministry of electricity building was taken as a case study to examine the power quality issue at various irradiance levels.
MATLAB2018b/Simulink was employed to describe and build the system in detail.
System development at various irradiance levels was examined in this study.
[1] S. Seme, N. Lukač, B. Štumberger, and M. Hadžiselimović, Power quality experimental analysis of grid-connected photovoltaic systems in urban distribution networks, Energy, 139 (2017) 1261–1266, doi: 10.1016/j.energy.2017.05.088.
[2] O. A. Ahmad, W. H. Habeeb, D. Y. Mahmood, K. A. Jalal, and H. Sayed, Design and performance analysis of 250 kw grid-connected photovoltaic system in iraqi environment using pvsyst software, Indones. J. Electr. Eng. Informatics, 7 (2019) 415–421, doi: 10.11591/ijeei.v7i3.978.
[3] M. P. Kazmierkowski, Power Quality: Problems and Mitigation Techniques [Book News], 9 (2015).
[4] P. K. Enaganti, P. K. Dwivedi, A. K. Srivastava, and S. Goel, Study of solar irradiance and performance analysis of submerged monocrystalline and polycrystalline solar cells, Prog. Photovoltaics Res. Appl., 28 (2020) 725–735, doi: 10.1002/pip.3264.
[5] M. L. Louazene, D. Korichi, and B. Azoui, Optimization of global solar radiation of tilt angle for solar panels, location: Ouargla, algeria, J. Electr. Eng., 13 (2013) 106–111.
[6] R. R, Design and Analysis of Grid Connected Transformerless Solar Inverter, Ijireeice, 5 (2017) 17–24, doi: 10.17148/ijireeice.2017.5105.
[7] H. Hu, S. Harb, N. Kutkut, I. Batarseh, and Z. J. Shen, Power decoupling techniques for micro-inverters in PV systems-A review, 2010 IEEE Energy Convers. Congr. Expo. ECCE 2010 - Proc., 32826 (2010) 3235–3240, doi: 10.1109/ECCE.2010.5618285.
[8] A. Kumar and D. Chatterjee, A survey on space vector pulse width modulation technique for a two-level inverter, 2017 Natl. Power Electron. Conf. NPEC 2017, 2018 (2018) 78–83, 2018, doi: 10.1109/NPEC.2017.8310438.
[9] G. Escobar, S. Pettersson and C.N.M. Ho, Phase-locked loop for grid synchronization under unbalanced operation and harmonic distortion, IECON 2011-37th Annual Conference on IEEE Industrial Electronics Society, Nov. 2011.
[10] H. Kim and S. K. Sul, A novel filter design for output LC filters of PWM inverters, J. Power Electron., 11 (2011) 74–81, doi: 10.6113/JPE.2011.11.1.074.
[11] X. Zhang, H. Zhu, F. Li, F. Liu, C. Liu, and B. Li, An LCL-LC power filter for grid-tied inverter, in IEEE Region 10 Annual International Conference, Proceedings/TENCON, (2013), doi: 10.1109/TENCON.2013.6718873.
[12] J.K. Atiea, Performance Analysis and Control of High Penetration Photovoltaic System Microgrids, MSc. Thesis, Electrical Engineering Dept., Univ. of Technology, Iraq, 2019.
[13] G. Hunter, J. Riedemann, I. Andrade, R. Blasco, and G. Rubén, Power control of a grid ‑ connected PV system during asymmetrical voltage faults, Electr. Eng., (2019), doi: 10.1007/s00202-019-00769-x.
[14] P. R. Rivera, Grid-connected photovoltaic systems based on nonlinear control. (2018).
[15] S. Tahir, J. Wang, M. H. Baloch, and G. S. Kaloi, "Digital control techniques based on voltage source inverters in renewable energy applications: A review, Electron. 7 (2018), doi: 10.3390/electronics7020018.
[16] F. Vignola, F. Mavromatakis, and J. Krumsick, Performance of PV inverters, in American Solar Energy Society - SOLAR 2008, Including Proc. of 37th ASES Annual Conf., 33rd National Passive Solar Conf., 3rd Renewable Energy Policy and Marketing Conf.: Catch the Clean Energy Wave, 1 (2008) 628–650.
[17] E. Irmak and N. Güler, A model predictive control-based hybrid MPPT method for boost converters, in International Journal of Electronics , 107 (2020) 1–16, doi: 10.1080/00207217.2019.1582715.
[18] Iraqi ministry of electricity, No Iraq PV solar PV grid connection code, 5 (2017) 1–8.
Article View

: 278

PDF Download

: 212