An Enhanced Interface Selectivity Technique to Improve the QoS for the Multi-homed Node
Abstract
The user's handoff is still an arguable issue that many mobile communication systems face, especially with the exploded growth of users and internet-based applications. There is a critical need for adequate quality of service (QoS) to meet the stringent requirements. This paper aims to study the overall performance and feasibility of several QoS mechanisms with the single-homed and multi-homed networks/nodes fluctuating resource availability. It investigates the adaptability of multi-interfaced multi-homed techniques to enhance the essential governing parameters, i.e., throughput, end-to-end latency, processing time, and jitter. Moreover, the paper introduces an interface selectivity technique for the multi-homed node to adopt the optimal interface, which offers the best services to explore the enhancements of the overall network performance. The overall results show how the introduced mechanism managed to keep the communication going on the multi-homed node. Furthermore, the results show that site multi-homing provides a better overall end-to-end latency over host multi-homing as it supports the entire network.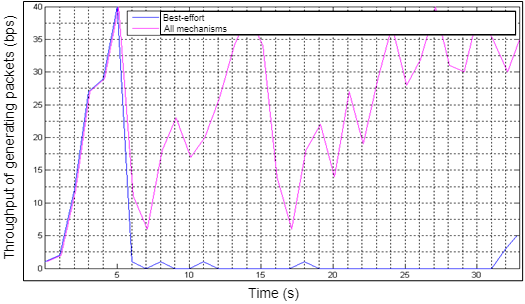 Keywords:
Main Subjects:
The paper introduces a reliable system, providing a sufficient solution for the associated nodes during hand-offs.
It investigates different QoS mechanisms, deploying each mechanism into various interfaces, and overall network performance when nodes switch between available interfaces.
It compares overall performance and feasibility of QoS mechanisms with the single-homed and multi-homed networks/nodes (site/host multi-homing) fluctuating resource availability.
[1]  I. El-Dessouki and N. Saeed, Smart Grid Integration into Smart Cities, 2021 IEEE International Smart Cities Conference (ISC2), (2021) 1-4, doi: 10.1109/ISC253183.2021.9562769.
[2] A. Anwar, Ijaz-ul-Haq, N. Saeed and P. Saadati, Smart Parking: Novel Framework of Secure Smart Parking Solution using 5GTechnology,(2021)IEEEInternationalSmartCitiesConference(ISC2),(2021)1-4, doi: 10.1109/ISC253183.2021.9562776.
[3] H. W. Oleiwi and H. Al-Raweshidy, Cooperative SWIPT THz-NOMA / 6G Performance Analysis, Electronics, MDPI, 11 (2022) 873,  doi: 10.3390/electronics11060873.
[4] H. W. Oleiwi, N. Saeed, and H. Al-Raweshidy, Cooperative SWIPT MIMO-NOMA for Reliable THz 6G Communications, Network, MDPI, pp. 257–269, 2022, doi: 10.3390/network2020017.
[5] N. H. Saeed, M. F. Abbod, H. S. Al-Raweshidy and O. Raoof, Intelligent MANET routing optimizer, 2008 5th International Conference on Broadband Communications, Networks and Systems, (2008) 359-365, doi: 10.1109/BROADNETS.2008.4769107.
[6] N. H. Saeed, M. F. Abbod and H. S. Al-Raweshidy, IMAN: An Intelligent MANET routing system, 2010 17th International Conference on Telecommunications,( 2010) 401-404, doi: 10.1109/ICTEL.2010.5478779.
[7] H. Azarhava and J. Musevi Niya, Energy Efficient Resource Allocation in Wireless Energy Harvesting Sensor Networks, IEEE Wireless Communications Letters, 9 (2020) 1000-1003, doi: 10.1109/LWC.2020.2978049.
[8] M. Kolberg, E. H. Magill and M. Wilson, Compatibility issues between services supporting networked appliances, IEEE Communications Magazine, 41 (2003) 136-147, doi: 10.1109/MCOM.2003.1244934.
[9] O. Raoof, H. Radhi, H. S. Al-Raweshidy and Z. Jerjees, Dynamic interface/network selection mechanism approach for multi-homed wireless nodes, 20095th IEEEGCCConference&Exhibition,(2009)1-4,doi: 10.1109/IEEEGCC.2009.5734251.
[10] M. Ismail and W. Zhuang, Decentralized Radio Resource Allocation for Single-Network and Multi-Homing Services in Cooperative Heterogeneous Wireless Access Medium, IEEE Transactions on Wireless Communications, 11 (2012) 4085-4095, doi: 10.1109/TWC.2012.091812.120329.
[11] M. Niraula and T. McParland, Aviation Safety Service IPV6 Based Air-To-Ground Communication: Multi-Homing Challenges, 2019 Integrated Communications, Navigation and Surveillance Conference (ICNS), (2019) 1-5, doi: 10.1109/ICNSURV.2019.8735276.
[12] X. Wang, M. Jia, Q. Guo, I. W. -H. Ho and J. Wu, Joint Power, Original Bandwidth, and Detected Hole Bandwidth Allocation for Multi-Homing Heterogeneous Networks Based on Cognitive Radio, IEEE Transactions on Vehicular Technology, 68 (2019) 2777-2790, doi: 10.1109/TVT.2019.2892184.
[13] P. Bellavista, A. Corradi and C. Giannelli, Differentiated Management Strategies for Multi-Hop Multi-Path Heterogeneous Connectivity in Mobile Environments, IEEE Transactions on Network and Service Management, 8 (2011) 190-204, doi: 10.1109/TCOMM.2011.072611.100066.
[14] H. Adhari, T. Dreibholz, M. Becke, E. P. Rathgeb and M. Tüxen, Evaluation of Concurrent Multipath Transfer over Dissimilar Paths, 2011 IEEE Workshops of International Conference on Advanced Information Networking and Applications, (2011) 708-714, doi: 10.1109/WAINA.2011.92.
[15] L. Zheng, X. Zhang, S. Zhang and X. Chen, "Research on Multi-path Network in Cloud Computing Based on SCTP," 2021 8th IEEE International Conference on Cyber Security and Cloud Computing (CSCloud)/2021 7th IEEE International Conference on Edge Computing and Scalable Cloud (EdgeCom), (2021) 30-35, doi: 10.1109/CSCloud-EdgeCom52276.2021.00016.
[16] Z. Jerjees and H. Al-Raweshidy, A Novel Mechanism to Select Better Multi-homed MIPv6 Networks, 2008 The Second International Conference on Next Generation Mobile Applications, Services, and Technologies, (2008) 136-141, doi: 10.1109/NGMAST.2008.58.
[17] B. Feng, H. Zhang, H. Zhou and S. Yu, Locator/Identifier Split Networking: A Promising Future Internet Architecture, IEEE Communications Surveys & Tutorials, 19 (2017) 2927-2948, doi: 10.1109/COMST.2017.2728478.
[18] Q. -D. Vu, L. -N. Tran, M. Juntti and E. -K. Hong, Energy-Efficient Bandwidth and Power Allocation for Multi-Homing Networks, IEEE Transactions on Signal Processing, 63 (2015) 1684-1699, doi: 10.1109/TSP.2015.2399863.
[19] T. Shuminoski and T. Janevski, Lyapunov Optimization Framework for 5G Mobile Nodes With Multi-Homing, IEEE Communications Letters, 20 (2016) 1026-1029, doi: 10.1109/LCOMM.2016.2540622.
[20] R. Liu, M. Sheng and W. Wu, Energy-Efficient Resource Allocation for Heterogeneous Wireless Network with Multi-Homed User Equipments, IEEE Access, 6 (2018) 14591-14601, Available: 10.1109/access.2018.2810216.
[21] M. Khan and M. Jamali, QoS optimization-based dynamic secondary spectrum access model, Transactions on Emerging Telecommunications Technologies, 29 (2018) e3455, Available: 10.1002/ett.3455.
[22] N. Yeadon, F. García, D. Hutchison, and D. Shepherd, Filters: QoS support mechanisms for multipeer communications, IEEE J Sel Areas Commun, 14 (1996) 1245–1262, doi: 10.1109/49.536366.
[23] L. Costa, F. Lima, Y. Silva and F. Cavalcanti, Radio resource allocation in multi-cell and multi-service mobile network based on QoS requirements, Computer Communications, 135 (2019) 40-52, Available: 10.1016/j.comcom.2018.12.007.
[24] M. Ismail and W. Zhuang, A Distributed Multi-Service Resource Allocation Algorithm in Heterogeneous Wireless Access Medium, IEEE Journal on Selected Areas in Communications, 30 (2012) 425-432, doi: 10.1109/JSAC.2012.120222.
[25] I. S. Pesántez-Romero, G. E. Pulla-Lojano, L. F. Guerrero-Vásquez, E. J. Coronel-González, J. O. Ordoñez-Ordoñez, and J. E. Martinez-Ledesma, Performance Evaluation of Hybrid Queuing Algorithms for QoS Provision Based on DiffServ Architecture, Lecture Notes in Networks and Systems, 216 (2022) 333–345, doi: 10.1007/978-981-16-1781-2_31.
[26] Z. Zhang and Y. Wu, Iterative Rank-Two Transmit Beamforming Design for QoS-DiffServ Multi-group Multicasting Systems, 2018 IEEE 4th International Conference on Computer and Communications (ICCC), (2018) 114-118, doi: 10.1109/CompComm.2018.8780898.
[27] S. Gan Chaudhuri, C. S. Kumar and R. V. RajaKumar, Validation of a DiffServ based QoS model implementation for real-time traffic in a test bed, 2012 National Conference on Communications (NCC), (2012) 1-5,doi: 10.1109/NCC.2012.6176841
[28] M. Vaezi, Y. Qi and X. Zhang, A Rotation-Based Precoding for MIMO Broadcast Channels with Integrated Services, IEEE Signal Processing Letters, 26 (2019) 1708-1712, doi: 10.1109/LSP.2019.2946088.
[29] J. Liu, Design and Implementation of Vo IPQoS Model Combining IntServ and DiffServ Based on Network Processor IXP2400, 2021 7th Annual International Conference on Network and Information Systems for Computers (ICNISC), (2021) 60-64, doi: 10.1109/ICNISC54316.2021.00019.
[30] H. W. Oleiwi, et al., Comparative Investigation on Different QoS Mechanisms in Multi-homed Networks, The Iraqi Journal of Industrial Research, 9 (2022) 1-10, doi: 10.53523/ijoirVol9I1ID141.
Article View

: 273

PDF Download

: 194