The Fundamental of Reduced Graphene Oxide with Nanosilver Composite Films Using the Spin Coating Technique
Abstract
Graphene oxide synthesis by hummers method and reduction by the green chemical method using green tea. Preparation films with reduced graphene oxide (rGO) and Silver Nanoparticles (AgNPs) by a spin coating method. The preparation films and Nanomaterial characteristics with X-Ray diffraction (XRD) GO has a peak at (2θ = 11.22̊ ). While rGO has a wider peak at (2θ = 26.2̊ ). The (rGO +AgNPs) films have five obvious diffraction angles. In Scanning electron microscopy (SEM) and energy-dispersive X-ray spectroscopy (EDX), flaky sheet (rGO), and spherical (AgNPs) with Nanosize about ~20 nm, the peaks of EDX indicated the presence of Carbon, silver, and oxygen. The energy gap was calculated from the absorbance spectrum and seemed to decrease with increasing AgNPs.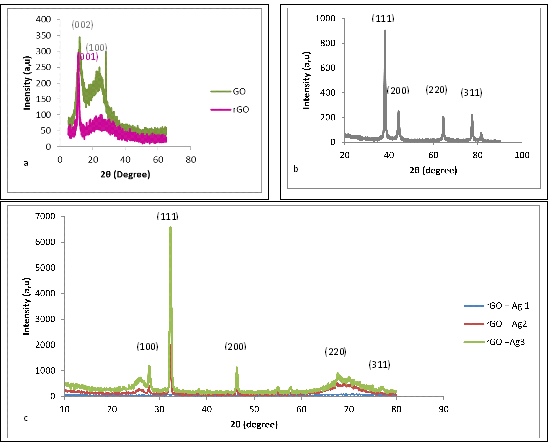 Main Subjects:
The preparation films have good properties in electronic devices, with an energy gap decreasing from 3.4 to 3.1ev with the increase of AgNPs.
The extinction coefficient has the maximum value in the visible region.
The absorption coefficient shows the highest value at 300nm for rGO: AgNPs, and it
The increase of silver nanoparticle concentration increases the extinction coefficient values, similar to absorption coefficient behavior.
[1] W. Lv et al., Low-Temperature Exfoliated Graphenes: Vacuum-Promoted Exfoliation and Electrochemical Energy Storage, ACS Nano, 3 (2009) 3730–3736. Doi:10.1021/nn900933u
[2] Y. Hernandez et al., High-yield production of graphene by liquid-phase exfoliation of graphite, Nat. Nanotechnol., 3 (2008) 563–568. Doi:10.1038/nnano.2018.215
[3] J. Zhang, H. Yang, G. Shen, P. Cheng, J. Zhang, and S. Guo, Reduction of graphene oxide via l - ascorbic acid, Chem. Commun., 46 (2010) 1112–1114 .
[4] M. A., Faramarzi, A. Sadighi, Insights into biogenic and chemical production of inorganic nanomaterials and nanostructures. Adv. Colloid Interfac, 20 (2013) 189−190. https://doi.org/10.1016/j.cis.2012.12.001
[5] M. Shah, D. Fawcett, S. Sharma, S. K. Tripathy, and G. E. J. Poinern, Green synthesis of metallic nanoparticles via biological entities. Materials, 8 (2015) 7278–7308. doi:10.3390/ma8115377
[6] Y. A. Chen, Y.J. Tai, and N.H. Fast Process to decorate silver nanoparticles on carbon nanomaterials for preparing high-performance flexible transparent conductive films. Langmuir. 2 (2013) 8433–8439. https://doi.org/10.1021/la401662d
[7] M. Ayán-Varela, M. J. Fernández-Merino, J. I. Paredes, S. Villar-Rodil, C. Fernández-Sánchez, L. Guardia, A. Martínez-Alonso, and J. M. D. Tascón, Highly efficient silver-assisted reduction of graphene oxide dispersions at room temperature: Mechanism, and catalytic and electrochemical performance of the resulting hybrids. J. Mater. Chem. 2 (2014) 7295–7305.
[8] S. Navalon, A. Dhakshinamoorthy, M. Alvaro, H. Garcia, Metal nanoparticles supported on two-dimensional graphenes as heterogeneous catalysts. Coordin. Chem. Rev. 312 (2016) 99–148. https://doi.org/10.1016/j.ccr.2015.12.005
[9] J. Li, D. Kuang, Y. Feng, F. Zhang, Z. Xu, M. Liu, and D. Wang, Green synthesis of silver nanoparticles–graphene oxidenanocomposite and its application in electrochemical sensing of tryptophan. Biosens. Bioelectron. 42 (2013) 198–206. https://doi.org/10.1016/j.bios.2012.10.029
[10] Hidayah N. M. S., et al. Comparison on graphite, graphene oxide, Reduce graphene oxide: synthesis and characterization, 150002, 2017. https://doi.org/10.1063/1.5005764
[11] AuonkorM. T. H., Mahbubul I. M., Saidur R., and Metselaar H. S. C., The green reduction of graphene oxide, RSC Adv. 6 (2016) 27807–27828.
[12] S. Thakur and N. karak, Green reduction of graphene oxide by aqueous phytoextracts, Carbon N. Y., 50 (2012) 5331-5339. https://doi.org/10.1016/j.carbon.2012.07.023
[13] F. W. Low, C. W. Lai, and S. B. Abd hamid, Easy preparation of ultrathin reduce graphene oxide sheets at high stirring speed, Ceram , Int. , 41 (2015) 5798- 5806. https://doi.org/10.1016/j.ceramint.2015.01.008
[14] Z. Zhang , F. G. Xu, W. S. Yang, M. Y. Guo, X. D. Wang, and B. L. Zhanga, et al. A facile one-pot method to high-quality Ag–graphene composite Nano sheets for efficient surface-enhanced Raman scattering. Chem Commu, 47 (2011) 6440–2.
[15] S. Gurunathan, J.W. Han, J.H. Park, E. Kim, Y.J. Choi, D.N. Kwon, J.H. Kim,Reduced graphene oxide-silver nanoparticle nanocomposite: A potential anticancer Nano therapy, Int. J. Nanomed. 10 (2015) 6257–6276. Doi:10.2147/IJN.S92449
[16] S.W. Chook, C.H. Chia, S. Zakaria, M.K. Ayob, K.L. Chee, N.M. Huang, H.M.Neoh, H.N. Lim, R. Jamal, and R.M.F.R.A. Rahman, Antibacterial performance of Ag nanoparticles and AgGO Nano composites prepared via rapid microwave assisted synthesis method, Nanoscale Res. Lett. 7 (2012) 1–7.
[17] D. Chen, L. Li, and L. Guo, An environment –friendly preparation of reduced graphene oxide sheets via amino acid , Nanotechnology, 22 (2011) 325601. https://doi.org/10.1088/0957-4484/22/32/325601
[18] N. Dies et al. Enhanced reduction of graphene oxide by high -pressure hydrothermal treatment, RSC Adv., 5 (2015) 81831- 81837.
[19] M. S. Ahmed, H. S. Han and S. Jeon, One- step chemical reduction of graphene oxide with oligothiophene for improved electrocatalyatic oxygen reduction reduction reaction , Carbon , 6 (2013) 164- 172. https://doi.org/10.1016/j.carbon.2013.04.080
[20] T. Kuila, S. Bose, P. khanara, and A. K. Mishra, Recent advanced in graphene – based biosensor, Biosens. Bio – electron. , 26 (2011) 4637 – 4648. https://doi.org/10.1016/j.bios.2011.05.039
[21] M. Darroudi, M. B. Ahmad, R. Zamiri, A. K. Zak,A. H. Abdullah and N. A. Ibrahim, Time-dependent effect in green synthesis of silver nanoparticles Int. J. Nanomed., 6 (2011) 677–681. doi: 10.2147/IJN.S17669
[22] M.Abdullahab Farah T. Mohammedm NooribAmin H.Al-Khursana, Second-order nonlinear susceptibility in quantum dot structure under applied electric field, Superlattices and Microstructures , 82 (2015) 219-233 . https://doi.org/10.1016/j.spmi.2015.01.041
[23] S. Kumar, V. Singh, A. Tanwar, Structural, morphological, optical and photocatalytic properties of Ag-doped ZnO nanoparticles, J. Mater. Sci. Mater. Electron. 27 (2016) 2166–2173.
[24] T.M. Farah, I Noori, A. Kadhim2 and N. D. Hamza3, Optical and Structural Properties of ZnO:Au Nano composite Thin films, International Journal of Nano electronics and Materials 11 (2018 ) 347-356 .
[25] Y. Haldorai, B.K. Kim, Y.L. Jo and J.J. Shim, Ag@graphene oxide Nano composite as an efficient visible-light plasmonic photocatalyst for the degradation of organic pollutants: A facile green synthetic approach, Mater. Chem. Phys. 143 ( 2014 ) 1452–1461 https://doi.org/10.1016/j.matchemphys.2013.11.065
Article View

: 246

PDF Download

: 146