Studying the Effect of un Coated and Multilayer Coated Tools on Cutting Temperature in Turning Operation
Abstract
The present work studies three variables (cutting velocity, feed rate, and cut depth) on hard turning cutting temperature of uncoated and multilayer-coated carbide (TiN, TiN/TiCN, TiN /Al2O3/ TiCN) inserts are used in AISI 1045 alloy steel. The tool's temperature was measured simultaneously, measuring the temperature of the tool-chip interface using infrared radiation (IR) pyrometer in this investigation. This study investigated the performance of four distinct coated and uncoated PVD and CVD tools during turning operations. Four cutting speeds (56, 88, 112, 141) m/min, four feed rates (0.065, 0.08, 0.16, 0.228) mm/rev., in the experiments, a constant cutting depth of (1) mm was used. The results also show that Coarse cutting tools have a lower tool temperature than uncoated ones. In comparison to uncoated and other coated tools, the three-layer (TiN/ Al2O3/ TiCN) coating is especially effective in a range of (32% to 39%) than uncoated inserts at various cutting velocity and constant feed rates, with varying feed rates and consistent cutting velocity and lower by approximately( 34% to 40%) than uncoated inserts.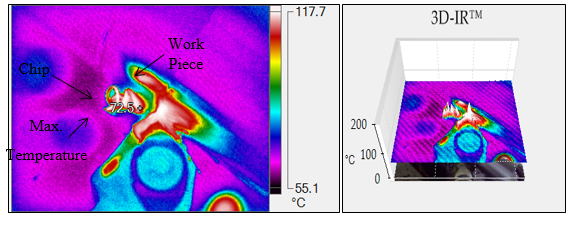 Main Subjects:
The effect cutting velocity, feed rate, and cut depth on the hard turning cutting temperature of uncoated and carbide was investigated.
Coated cutting tools have a lower tool temperature than uncoated ones compared to uncoated ones.
The cutting velocity influences the tool temperature rise during the cutting process.
[1] S. D. Ghodam , Temperature Measurement of a Cutting Tool in Turning Process By Using Tool Work Thermocouple, Int. J. Res. Eng. Technol., 03 (2014) 831–835.
[2] S. K. Shihab , Z. A. Khan, Aas Mohammad, and Arshad Noor Siddiqueed , RSM based Study of Cutting Temperature During Hard Turning with Multilayer Coated Carbide Insert, Procedia Mater. Sci., 6 (2014) 1233–1242.
[3] W. Grzesik, Experimental investigation of the cutting temperature when turning with coated indexable inserts, Int. J. Mach. Tools Manuf., 39 (1999) 355–369.
[4] G. J. Matrood, A. M. Al-Gaban, and Hussain M. Yousif , Studying the Erosion Corrosion Behavior of NiCrAlY Coating Layer Applied on AISI 446 Stainless Steel Using Thermal Spray Technique, Eng. Technol. J., 38 (2020) 1676–1683.
[5] A. K. Balaji and V. S. Mohan, An effective cutting tool thermal conductivity based model for tool-chip contact in machining with multilayer coated cutting tools, Mach. Sci. Technol., 6 (2002) 415–436.
[6] Y. Deng , W. Chen, B. Li, Ch. Wang , T. Kuang, and Y. Li, Physical vapor deposition technology for coated cutting tools: A review, Ceram., Int., 46 (2020) 18373–18390. doi: 10.1016/j.ceramint.2020.04.168
[7] J. Rajaguru and N. Arunachalam , Coated tool Performance in Dry Turning of Super Duplex Stainless Steel, Procedia Manuf., 10 (2017) 601–611. https://doi.org/10.1016/j.promfg.2017.07.061
[8] J. Z, Zhanqiang Liu, Bing Wang, Jianrui Hu, and Yi Wan Tool coating effects on cutting temperature during metal cutting processes: Comprehensive review and future research directions. Syst. Signal Process., 150 (2021) 07302.
[9] F. N. Thamer,Ali A. Khleif, and Farhad M. Othman, Experimental Investigation of Surface Roughness Using Uncoated and Coated Tungsten Carbide Cutting Tool in Turning Operation. Eng. Technol. J., 39 (2021) 768–778.
[10] M. Q. Ibraheem , Optimization of Cutting Parameters in Milling Process Using Genetic Algorithm and ANOVA (March 2020), Eng. Technol. J., 38 (2020) 1489–1503. http://dx.doi.org/10.30684/etj.v38i10A.1124
[11] İ. Ucun and K. Aslantas, Numerical simulation of orthogonal machining process using multilayer and single layer coated tools, The Int. J. of Ad. Man. Technol., 54 (2011) 899-910.
[12] M. A. El Hakima, M. D. Abadb, M. M. Abdelhameeda, M. A .Shalabya, S. C. Veldhuis, Wear behavior of some cutting tool materials in hard turning of HSS, Tribology International., 44 (2011) 1174–1181. https://doi.org/10.1016/j.triboint.2011.05.018
[13] S. D. Ghodam, "Performance evaluation of CVD coated tool by measuring temperature using tool work piece thermocouble", Int. J. Mech. Eng., 3 (2014) 110-114.
[14] F. K, Kubilay Aslantas¸ and A. Cicek Prediction of cutting temperature in orthogonal machining of AISI 316L using artificial neural network, Applied Soft Computing, University of Düzce., 38 (2016) 64-74.
[15] B. A. Rezende, Frederico de Castro Magalhães , and J. C. Campos Rubio , Study of the measurement and mathematical modelling of temperature in turning by means equivalent thermal conductivity., 152 (2020) 107275.
[16] Turning Guide, SANDVIK Coromant., (2011).
[17] ASTM A29/A29M Standard Specification for General Requirements for Steel Bars, Carbon and Alloy, Hot- Wrought.
[18] Y. C. Yen, A. Jain, P. Chigurupati, W.T. Wu, and T. Altan , Computer simulation of orthogonal cutting using a tool with multiple coatings, (ERC/NSM), The Ohio State University.,8 (2003) 305-326.
[19] Fl. Corporation, fluke thermal imager catalogue., (2007).
Article View

: 19

PDF Download

: 17