Document Type : Research Paper
Authors
Materials Engineering Dept.,University of Technology-Iraq, Alsina'a Street, 10066 Baghdad, Iraq.
Abstract
316L stainless steel alloys are extensively used in orthopedic applications for the fixations and substitutions of defective bone tissues in the human body because of their excellent combination of mechanical and biological behavior. However, just like other metallic implants, they tend to release some toxic ions that may lead to serious health issues. Therefore, this study attempts to increase the alloy's resistance against corrosion while maintaining its good mechanical properties by applying a modified coating layer of PMMA-based composites titanium carbide as reinforcement material using dry electrostatic spray deposition (ESD) under constant conditions (25 kV, 15-20 cm distance, compressed air of 15 psi, and spraying angle about 45.0o for 3 0sec). The titanium carbide was added with ratios of (5, 10, 15, 20) wt. % respectively. The coatings' surface morphology and phases were studied using Field Emission Scanning Electron Microscope, Energy-dispersive X-ray spectroscopy, and X-ray diffraction. Also, the biological behavior of the composite coated samples was studied by investigating their corrosion and wetting attributes. The results revealed that homogenous, uniform, crack-free coating layers and high surface wettability were obtained. Indicating the suability of PMMA/TiC for biomedical applications due to the alloy's improved corrosion resistance and biocompatibility.
Graphical Abstract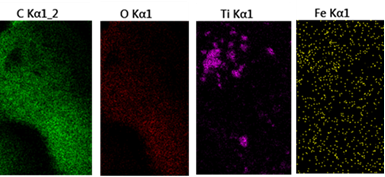 Highlights
Applying a PMMA-based composite coating with TiC particles as reinforcement.
Using the electrostatic spray method as a dry coating method for biomedical applications.
Study the morphological characteristics of the applied coatings.
Identifying the biological activity of PMMA/TiC coatings by determining the corrosion resistance and the wetting behavior.
Keywords
Main Subjects