Document Type : Research Paper
Authors
1 Chemistry Engineering Dept, QuaidE Millath Government College for Women, Chennai, Tamil Nadu, India, 600 002.
2 Ariviya Technologies, Chinnaya Street, Pattukkottai, India - 600017
3 Department of Chemistry, SRM Valliammai Engineering College, SRM Nagar, Kattankulathur, Chennai, Tamil Nadu, India 603203
4 Dean, Science & Humanities, Rajalakshmi Engineering College, Thandalam, Chennai, Tamil Nadu, India, 602 105
Abstract
The performance of membranes for a specific application can be determined with the help of structural properties such as molecular weight cut-off (MWCO), morphology, and pore statistics. Heavy metal ions from aqueous streams can be separated with the help of ultrafiltration membranes. In the presence and absence of the various components of the additive poly (ethylene glycol) 600, MWCOs and pore statistics of polyurethane (PU) and carboxylated polysulfone (CPSf) blend ultrafiltration (Total Polymer Concentration = 17.5 wt %) were studied with the help of dextran of different molecular weights ranging from 19 kDa to 150 kDa. The derived pore size, porosity, and the number of pores have a remarkable relationship with the MWCO, morphology, and the flux performance of the membranes. The blend membranes rejected certain toxic divalent heavy metal ions such as copper, cadmium, nickel, and zinc by complexing them into a polymeric ligand, poly(ethyleneimine) (PEI). The effect of polymer blend compositions and additive concentrations on metal ions' rejection and permeate flux are discussed
Graphical Abstract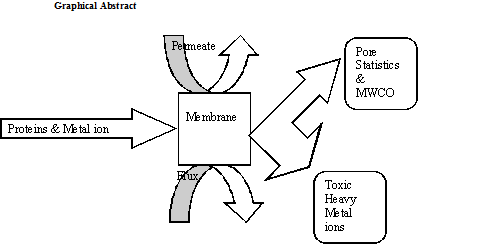 Highlights
Polymer blend membranes composed of polyurethane and carboxylated polysulfone fabricated
An additive polyethylene glycol 600 is used for morphology-controlled membranes
PU/CPSf (80/20 and 75/25 %) concentration was found to be optimum
Toxic heavy metal ions (Cu2+, Ni2+, Zn2+, and Cd2+) were separated by complexing them with polyethyleneimine.
Keywords
Main Subjects