Experimental Study Convection Heat Transfer Inside the Triangular Duct Filled with Porous Media
Abstract
Convection heat transfer inside an empty triangular channel when filled with porous media heated proportionally with a constant heat flux (1300 W/m²) at the Reynolds number range (3165- 10910) with packed beds has been studied. The present work investigates porous media experimentally. The packed duct has a length (1 m) and (0.1 m) hydraulic diameter packed with porous material made from spherical glass particles of two different diameters (5 mm, and 10 mm). The value of porosity for the channel is (0.468,0.616 and), respectively. This research studies the effect of changing the Reynolds number and porosity on the enhanced heat transfer coefficient and local Nusselt number. The results indicated that using a porous structure enhanced the convection heat transfer coefficient significantly by (90.2%) and (92.1%) at porosity (0.616, 0.468), respectively, when compared with an empty duct. The results also revealed that the local Nusselt number decreased when the flow's axial position increased with increasing air velocity. The pressure on both ends of the test section increased as the air velocity rose and reduced as the size of the glass spheres increased. Therefore, the drag coefficient decreases as the modified Reynolds number increases with the diameter of glass spheres. The current research was compared with previous research, and the results were satisfactory. Correlational relationships were reached between the Nusselt number and the Reynolds number.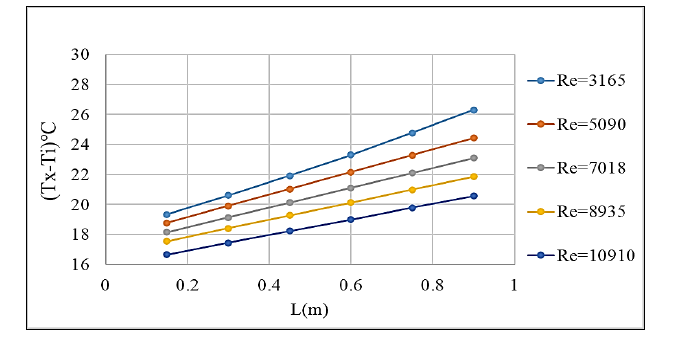 Main Subjects:
Convection heat transfer is enhanced significantly in a triangular channel filled with a porous material.
The average heat transfer coefficient increases with decreasing porosity compared to an empty triangular channel.
The average Nusselt number decreases when using porous packed channels but increases with increasing porosity.
Static pressure difference increases with increasing both Reynolds number and porosity.
Empirical correlation is derived by relating the Nusselt number to the Reynolds number for the triangular porous packed channel.
[1] Kaviany, M, 1998, Principles of Heat Transfer in Porous Media,Chap.1-2, Second edition, the university of Michigan, America.
[2] Bejan, A. 2003. Convection Heat Transfer, Chap. 10, John Wiley and sons ins.
[3] Omar R. Alomar, Numerical Study of Inertia Effect on Natural Convection in A Horizontal Porous Cavity, M.Sc. Thesis, Mosul University, Iraq,2004.
[4] K. Vafai, and C.L. Tien Boundary and Inertia Effects on Flow and Heat Transfer in Porous Media, International Journal Heat and Mass Transfer, 24 (1981) 195- 203. doi:org/10.1016/0017-9310(81)90027-2
[5] S. H. Rasheed, Mixed Convection Heat Transfer in Saturated Porous Media inside a Circular Tube, Ph.D. Thesis, University of Technology , Iraq,2006.
[6] C. W. Leung, T. T. Wong, H. J. Kang , Forced convection of turbulent flow in triangular ducts with different angles and surface roughness, Heat Mass Transfer, 34 (1998) 63-68. doi:org/10.1007/s002310050232
[7] H. M. Mostafa, G. I. Sultan and M. G. Mousa, Heat Transfer for Pulsating Flow in a Horizontal Cylinder Partially Filled with a Porous Medium, Higher Technological Institute, Tenth of Ramadan City, Egypt ,Mansoura engineering journal, 29 (2004) 34-43. doi: 10.21608/bfemu.2020.132849
[8] S. Negin Mortazavi, Effect of Porous Media Properties on Heat Transfer in Triangular Porous Ducts with Iso-flux Walls, ASME 2011 International Mechanical Engineering Congress &Exposition IMECE2011, Denver, Colorado, USA. 10,2011 1017-1028.doi:org/10.1115/IMECE2011-65372
[9] K.H .Hilal, L.T. Fadhl, S.N. Faraj, Experimental Investigation of Heat Transfer and Pressure Drop in Square Metal Packed Duct with Different Boundary Heating, Eng. Technol. J. 30 (2012) 1082-1107.
[10] Hazim J. Jaber, Transfer in a partially Opened Cavity Filled with a Porous Media, Proceedings of International Conference on Engineering and Information Technology ICEIT,Toronto, Canada,2012.
[11] S. S. Mousavi, Mohammad Nikian, An experimental investigation on forced convection heat transfer of single-phase flow in a channel with different arrangements of porous media, Int. J. Therm. Sci.134 (2018) 370–379. doi:org/10.1016/j.ijthermalsci.2018.04.030
[12] V. Goel, P. Guleria., R. Kumar, Effect of apex angle variation on thermal and hydraulic performance of roughened triangular duct, Int. Commun. Heat Mass Transfer . 86 (2017) 239–244.doi:org/10.1016/j.icheatmasstransfer.2017.06.008
[13] R. B. Smasem, Convection Heat Transfer in A Channel of Different Cross Section Filled With Porous Media, Kufa Journal of Engineering ,9 (2018) 57-73. doi:org/10.30572/2018/kje/090205
[14] R. Kumar ,Effect of Rounded Corners on Heat Transfer and Fluid Flow through Triangular Duct, J. Heat Transfer. 140 (2018) 121701. doi:org/10.1115/1.4040957
[15] A. N. Mahdi, Experimental Study of Forced Convection Heat Transfer Porous Media inside a Rectangular Duct at Entrance Region, J. Univ. Babylon Eng. Sci. 27 (2019) 211–231. doi:org/10.29196/jubes.v27i1.1991
[16] H.N. Abdulkareem and K. H. Hilal, Convection Heat Transfer Analysis in A Vertical Porous,Tube Wasit Journal of Engineering Sciences, 8 (2020) 31–45. doi: 10.31185/ejuow.vol8.lss1.153
[17] A.A. Mohammed, Natural convection heat transfer inside horizontal circular enclosure with triangular cylinder at different angles of inclination, Journal of Thermal Engineering, 7 (2021) 240- 254. doi:org/10.18186/thermal.849812
[18] G. C. Pal, G.Nammi, S.Pati, P. R. Randive, Laszl Baranyi, Natural convection in an enclosure with a pair of cylinders under magnetic field, Case Stud. Therm. Eng. 30 (2022) 101763. doi:org/10.1016/j.csite.2022.101763
[19] K. U.Rehman, W.Shatanawi, A. Taqi, M. Shatnawi, Case study on thermally fluidized suspension in porous enclosure: hybrid computational analysis, Case Stud. Therm. Eng. 30 (2022) 101730. doi;org/10.1016/j.csite.2021.101730
[20] A.Ahmed, Z. Shah, Computational analysis of viscous dissipation and Darcy-Forchheimer porous medium on radioactive hybrid nanofluid, Case Stud. Therm. Eng. 30 (2022) 101728. doi:org/10.1016/j.csite.2021.101728
[21] T. K. Salim, An experimental study for heat transfer enhancement by laminar forced convection from horizontal and inclined tube heated with constant heat flux, using two types of porous media,Tikrit J. Eng. Sci. 15 (2008) 15-36.
[22] Eric M. Banks Christopher, Thesis. Airflow Traverse Comparisons using The Equal-Area Method, Log-Tchebycheff Method and the Log-Linear Method, NUCON International, Inc. Columbus, Ohio,2002.
[23] Holman, J. P., Heat transfer, 10th Edition, McGraw-Hill, 2009.
Article View

: 49

PDF Download

: 64