Document Type : Research Paper
Authors
Computer Sciences Dept., University of Technology-Iraq, Alsina'a street, 10066 Baghdad, Iraq.
Abstract
Image encryption is a crucial area for researchers in information security, which protects digital images from unauthorized access. This paper proposes a novel image encryption scheme based on the multi-chaotic system. This paper is about encrypting color images based on a 2D Henon map and a 3D Lorenz map. We used the 2D Henon map equation to generate a new S-Box, thus creating a solid cipher that is difficult to break (for the confusion operation). We then generate keys from the 3D Lorenz map for the shifting process (for diffusion operation). A comparative analysis and the simulation test show that the suggested image cryptosystem has some excellent properties, including high sensitivity, fast encryption/decryption, a large keys-pace, excellent statistical properties related to the ciphertext, etc.
Graphical Abstract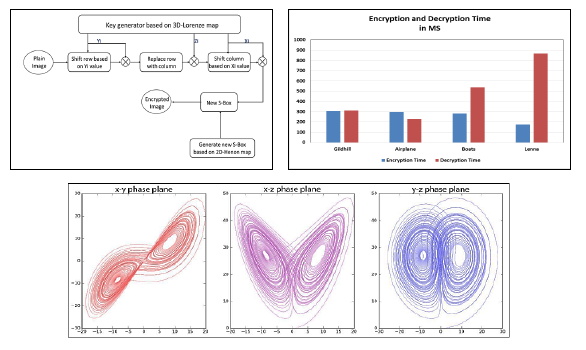 Highlights
A novel encryption scheme was proposed based on a multi-chaotic system for secure communications.
The scheme employs a strong cipher generated from a 2D Henon map for the S-Box and a 3D Lorenz map for key generation.
The proposed encryption method demonstrates high performance, offering efficiency and robustness against attackers.
Keywords
Main Subjects
Wu, D. Wang, J. Kurths, H. Kan, A novel lossless color image encryption scheme using 2D DWT and 6D hyperchaotic system, Inf. Sci., 349–350 (2016) 137-153. https://doi.org/10.1016/j.ins.2016.02.041
A. Albahrani, A new audio encryption algorithm based on a chaotic block cipher, Annual Conference on New Trends in Information & Communications Technology Applications (NTICT), Baghdad, Iraq, 2017, 22-27. https://doi.org/10.1109/NTICT.2017.7976129
Wang, H.L. Zhang, A novel image encryption algorithm based on genetic recombination and hyper-chaotic systems, Nonlinear Dyn., 83 (2016) 333–346. https://doi.org/10.1007/s11071-015-2330-8

Ahmed, E.M.E.Mostafa, F. Yasser, B. Ahmed, Using Chaotic Maps to Enhance RSA Public Key Cryptography, Sci.Int. (Lahore), 30 (2018) 711-715.

Xiaoqiang, W. Xuesong, Multiple-Image Encryption Algorithm Based on the 3D Permutation Model and Chaotic System, Symmetry, 10 (2018) 660. https://doi.org/10.3390/sym10110660
Shokouh Saljoughi, and H. Mirvaziri, A new method for image encryption by 3D chaotic map, Pattern Anal. Appl., 22 (2018) 243–257. https://doi.org/10.1007/s10044-018-0765-5
Hua, F. Jin, B. Xu, and H. Huang, 2D Logistic-Sine-coupling map for image encryption, Signal Process., 149 (2018) 148–161. https://doi.org/10.1016/j.sigpro.2018.03.010

T Sadiq, A.K. Farhan, S.A .Hassan. A proposal to improve the RC4 algorithm based on hybrid chaotic maps, J.Adv. Comput. Sci. Technol. Res., 6 (2016) 74-81.

Yasser, F. Khalifa, M. A. Mohamed, and A. S. Samrah , A New Image Encryption Scheme Based on Hybrid Chaotic Maps, Complexity, 2020 (2020) 23. https://doi.org/10.1155/2020/9597619
Khan, J. Ahmad, and S. O. Hwang , An efficient image encryption scheme based on: Henon map, skew tent map and S-Box, 6th Int. Conf. Model., Simulation, Appl. Optim., 2015,1-6.https://doi.org/10.1109/ICMSAO.2015.7152261
Liu, B. Zhao, L. Huang ,Quantum Image Encryption Scheme Using Arnold Transform and S-box Scrambling, Entropy, 21 (2019) 343.https://doi.org/10.3390/e21040343
Q. Zhang, J. L. Hao, and X. Y. Wang , An Efficient Image Encryption Scheme Based on S-Boxes and Fractional-Order Differential Logistic Map, IEEE Access, 8 (2020) 54175-54188.https://doi.org/10.1109/ACCESS.2020.2979827
Ramasamy, V. Ranganathan, S. Kadry, R. Damaševičius, and T. Blažauskas 2019. An image encryption scheme based on block scrambling, modified zigzag transformation and key generation using Enhanced Logistic-Tent Map, Entropy, 21 (2019) 656.https://doi.org/10.3390/e21070656
Natiq, N. M. G. Al-Saidi, M. R. M. Said, and A. Kilicman 2018. A new hyperchaotic map and its application for image encryption, Eur. Phys. J. Plus, 6 (2018) 133. https://doi.org/10.1140/epjp/i2018-11834-2
Kadhim F. and H. Emad M. 2017. Mouse Movement with 3D Chaotic Logistic Maps to Generate Random Numbers, Diyala J. Pure Sci., 13 (2017) 24–39. https://doi.org/10.24237/djps.1303.268b
Hassan, and A. Kadhim, New Image Encryption Based on Pixel Mixing and Generating Chaos System, Al Qadisiyah J. Pure Sci., 25 (2020) 1-14. https://doi.org/10.29350/qjps.2020.25.4.1182
P. Zhang, R. Guo, H. W. Chen, Z. M. Zhao, and J. Y. Wang , Efficient image encryption scheme with synchronous substitution and diffusion based on double S-boxes, Chinese Phys. B, 27 (2018) 080701. https://doi.org/10.1088/1674-1056/27/8/080701